Overview
SAIVA AI presents progress notes in a more compact & digestible form by highlighting selected keywords and/or phrases and including only sentences which contain them (Summary Mode). This allows clinicians to pinpoint more effectively areas in the progress notes that can explain why the patient appeared in the SAIVA Risk report.
The default dictionary containing common about 320 keywords and phrases was constructed by SAIVA AI together with several experienced clinicians. However, you can add your own keywords and/or remove keywords you consider unnecessary.
Note: You must be an Org Administrator in order to access this function
To make customizations to highlighted keywords, navigate to the Settings module and Clinical tab: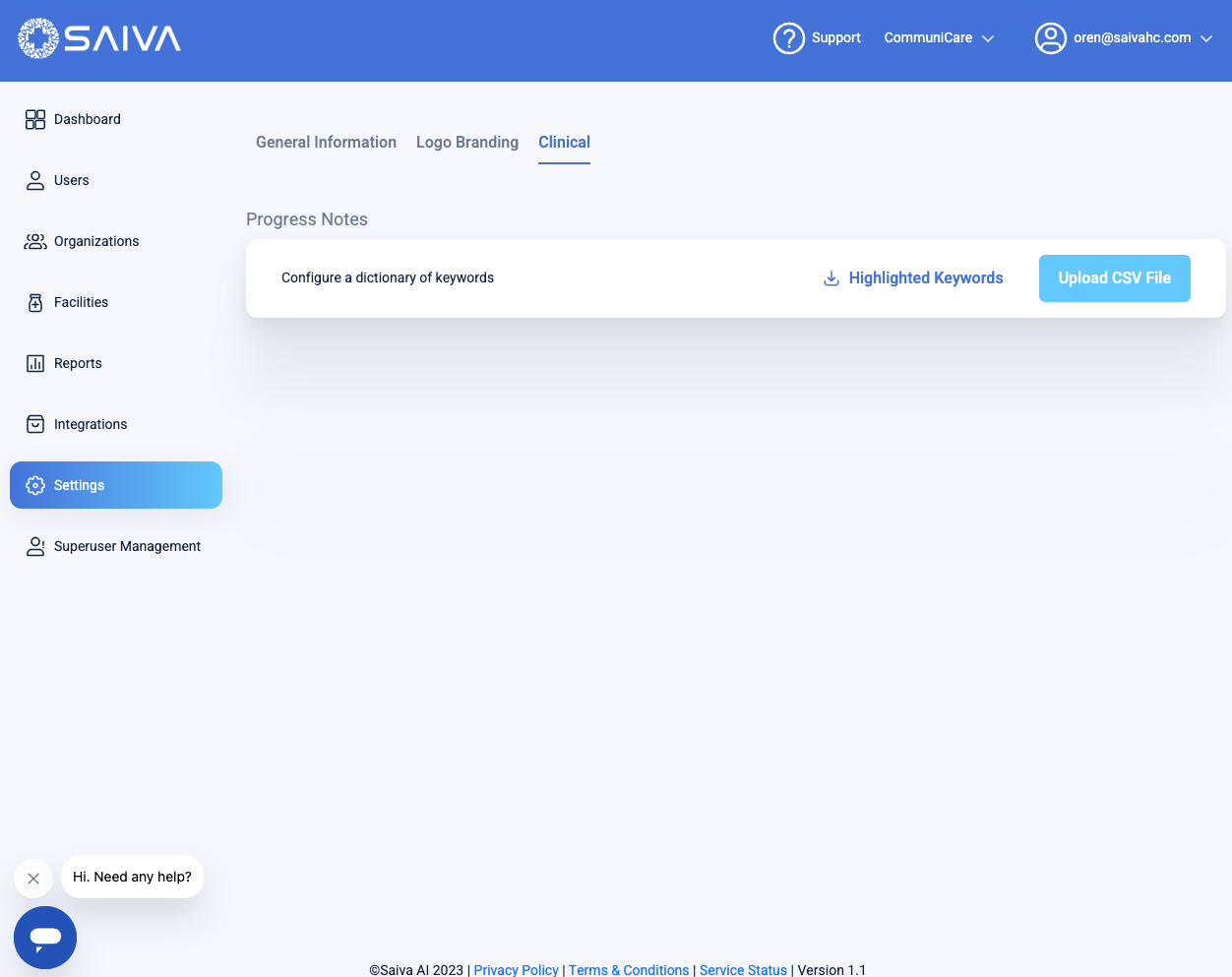 Modifying the highlighted keyword list
The highlighted keyword list is a CSV file with the following format:
| | |
| --- | --- |
| keyphrases | included |
| keywords or phrase to highlight (one or more connected words) | YES to include or NO to temporarily disable |
To make modifications to the highlighted keyword list:
Use the Highlighted Keywords download button to download the current list of keywords in CSV format. If you haven't uploaded yet a customized list of keywords, this CSV will contain the default list of keywords assigned by SAIVA AI. Otherwise, this CSV will contain your modified version.
Edit the file locally using any CSV editor such as Excel, Notepad etc and save.
Use the Upload CSV File button to upload your modified version. Click in the center to select the file or simply drag & drop your file into the center and then click Upload to initiate the transfer back to your SAIVA account.
SAIVA AI will also consider stemming and negations when processing the progress notes against your list of keywords.
Note: Your keyword modifications will take affect in the next reporting cycle.
Attached to this page is the default list of keywords initially assigned to your account.